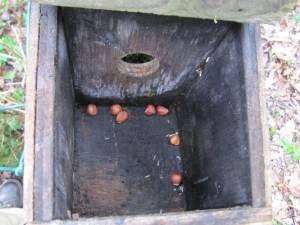 Fourth Year of Monitoring
This fourth year of monitoring has seen a dramatic drop in numbers due to a bad winter followed by a wet spring. Two new licence holders joined the team making this year's team eleven, five full licence holders and six assistants. February box clean saw us leaving Hazel Nuts donated by Gareth Cooksey of the Spice of Life. April's survey found a sleeping (Torpid) Dormouse and no Hazelnuts.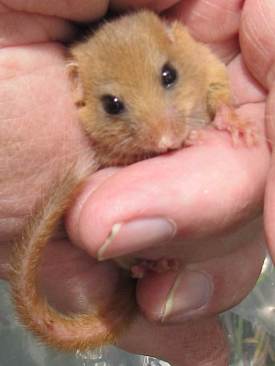 Box Surveys
Fifty-two boxes were surveyed once a month April to November, contents recorded and registered with The County Ecologist, SeWBREC, NRW and NDMP. Early in the season Tits had nested in 22, 42% of boxes, this year there were Slugs many boxes and in October one box contained 6 Woodmice.
Our heaviest Dormouse, in October, was 31gms (a good hibernation weight) and the lightest, June, a group of four grey young with their eyes just open which weighed together were found to be 28gms, an average of 7gms.
Our numbers, May/Nov, had been going up 2009 ~ 33, 2010 ~ 89, 2011 ~ 108 but the 2012 figure is only 41. This decrease has been mirrored across much of the country due to the inclement weather.